Friday, September 2, 2011
Posted by Ron Hostetter in "Digital Home Hardware & Accessories" @ 07:00 AM
Amplitube also comes with a single track recorder. I have to be honest and admit that I wasn't able to find much use for the recorder for my use. The one thing I wanted to do, I couldn't easy figure out. In my "real" rig, I have a BOSS RC-2 Loop Station pedal which allows me to easily lay down a looping chord progression. I can then play that loop and practice over it, or add additional layers to it with a push of the pedal. I was hoping for a simple way to do the same in Amplitube, but couldn't accomplish this task. I could record some progressions, but couldn't get it to loop effectively. Perhaps I need more training, but the single track recorder just didn't seem that useful to me.
Which leads to the next feature of Amplitube...
In-App Purchases
The Amplitube software comes out of the box with a decent array of amps, cabinets, and stomp boxes. But we all know that guitar players are never happy with what they have - they always want more. To satisfy this need, Amplitube allows for the easy purchase of additional items. Simply tap the "Add Gear" button to be presented with a pick list of stuff to buy. Most stomp boxes run about three bucks, amps run five bucks. A full-blown 8 track recorder can be purchased for $15.
Other Coolness
IK Multimedia also makes an awesome bracket for mounting your iPad to your microphone stand - the iKlip. Mount the iKlip to your mic stand, then attach your iPad. This worked great for me while I was practicing my scales, but would also be a nice way to keep notes, or lyrics easily accessible while performing.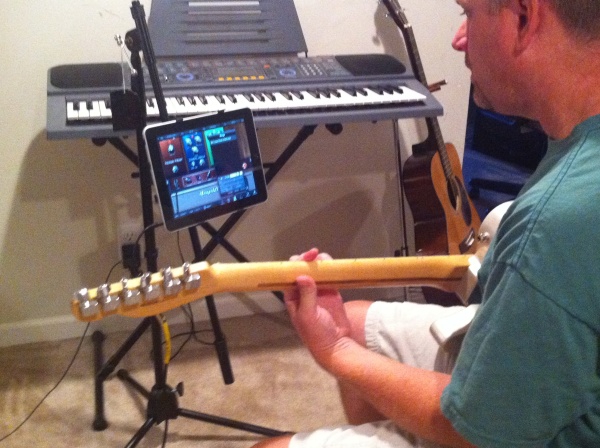 Figure 3: I'm using the iKlip to keep the iPad within reach while struggling through yet another scale drill.
IK also offers a Fender branded version of Amplitube. Functionality is basically the same, but the amps, cabinets and stomp boxes are all Fender branded products. This is a great app if you are a Fender fan (which I am), but you also may find the Fender version somewhat limited compared the to full Amplitube app.
Conclusion
IK Multimedia has hit a home run for the vast guitar/tech/geek crowd. The iRig and Amplitube software provide an endless playground. While it takes a bit to get used to the interface, once mastered you can create an endless array of sounds, giving you that dream rig you could never afford in real life. It really is the most fun I've had with my iPad.
Ron Hostetter is a software sales engineer by day, a gadget lover and struggling guitarist by night. He has worked in the IT field for over 20 years and loves reading about and playing with technology. He lives in Kansas City, Missouri with his lovely wife, his son and daughter, andtheir two dogs. He enjoys playing guitar in his band 71 South and watching the Kansas City Royals.

Do you enjoy using new hardware, software and accessories, then sharing your experience with others? Then join us on the Thoughts Media Review Team! We're looking for individuals who find it fun to test new gear and give their honest opinions about the experience. It's a volunteer role with some great perks. Interested? Then click here for more information.

---