Friday, October 16, 2009
Posted by Jeff Campbell in "Apple Software (OS X)" @ 09:00 AM
"BlackBerry owners can now sync their contacts, calendar notes and more with their Mac systems, via the newly released Desktop Manager for Mac."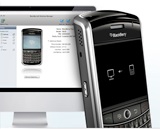 We reported on the upcoming release of this program in September, and now it is here. You can get the free program right from the Blackberry site, and it requires the following:
Mac OS X v10.5.5 and above (Only 32-bit mode is supported on Mac OS X v10.6);
BlackBerry® Device Software v4.2 or higher;
iTunes v7.7.1 or later.
Seems like a no-brainer if you have a Blackberry and a Mac, however I haven't read any reviews on it so downloader beware.
---