Monday, May 4, 2009
Posted by Vincent Ferrari in "Apple Software (iPhone/iPod Touch)" @ 09:00 AM
"Flight Control is a delightful action/strategy game for iPhone and iPod Touch that is as simple as it is wickedly addictive. Touch and drag your aircraft to their landing zones, and avoid mid-air collisions. It sounds easy, but as more and more planes arrive you will need smart strategy, keen eyes and a smooth steady-as-she-goes touch!"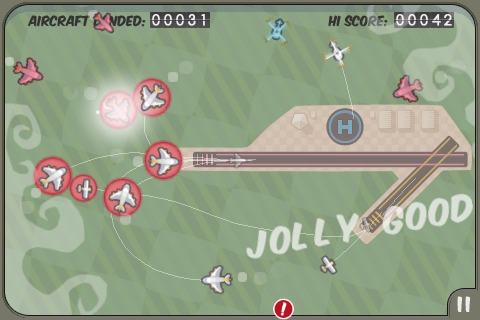 It's not a new game in any sense of the word, but it is one that I just recently discovered on the App Store (on the recommendation of Anthony from the Opie and Anthony show). I swear I've never been as addicted to a game as I am to this one. I can't even tell you how many hours I whittled away this weekend playing this game, and it shows. I was having trouble landing ten or more planes. Now I'm into the mid thirties, so practice does indeed make perfect.
Anyone else ready to check into a program over this one? Come on, it's okay. We're all friends here.
---