Tuesday, December 16, 2008
Posted by Vincent Ferrari in "Other Apple Hardware" @ 12:00 PM
"Prior to October 14th of this year, Apple hadn't updated its Cinema Display line in years. Literally. There's no doubt that this refresh is entirely overdue, and we still hold that Apple should've taken the opportunity to refresh its now-archaic 20 and 30-inch counterparts. All that aside, this writeup is about the new 24-incher, a LED-backlit beauty that doesn't mind being called glossy and is clearly partial to notebooks. The screen packs the same 1,920 x 1,200 resolution that was on the 23-incher it replaced, but ditches that DVI connector in favor of the newer, less widely adopted DisplayPort. So, is the newfangled screen worth $899? Read on to find out."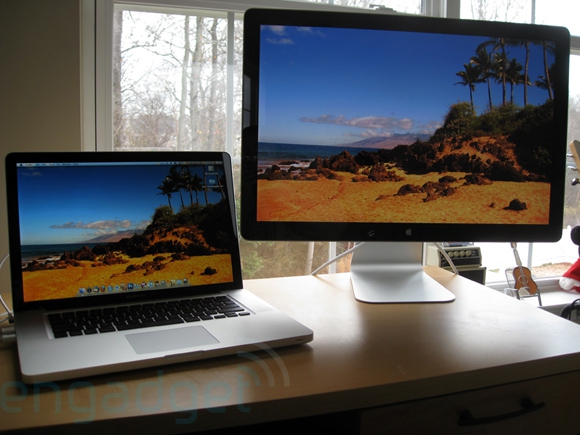 Photo Credit: Darren Murph, Engadget
Engadget puts the new 24" Cinema Display through its paces and finds plenty to like and dislike about it. I won't steal their thunder by quoting too much about it, but I think I can interpret the bottom line thusly: It's a great screen, albeit glossy, with great sound and neat connectivity options (read: the MagSafe port) but at the same time they don't like that it uses only MiniDP rendering it useless for everything but the new line of notebooks. For more in depth explanations / detail, do check out the review. It's quite thorough.
As for whether or not I'll be buying one? I honestly don't think so. At least not until the price comes out of the stratosphere.
---