Wednesday, May 6, 2009
Posted by Jeff Campbell in "Apple iPhone & iPod Touch" @ 08:00 AM
"Apple has updated its procedures for handling certain iPhone hardware problems, and will now for the first time the Genius Bar staff will perform display screen replacements at its retail stores. Previously, iPhones and iPods have been subject to a swap-out policy: if the device is under warranty or otherwise eligible, it's immediately replaced with a refurbished model. Now, iPhones that suffer from broken or inoperable displays will fixed by a module replacement in the back room of the retail stores."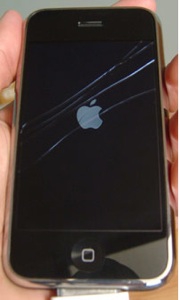 Photo Credit: Apple iPhone Review
The repair takes about 30 to 40 minutes, I suppose depending on the Genius. If you have an iPhone 3G (the only iPhone they will repair on site) and it is still under warranty, you now have a local option. That is if you have a local Apple Store.
---