Friday, November 13, 2009
Posted by Jeff Campbell in "Apple iPhone & iPod Touch" @ 08:00 AM
"For those of you in Canada, good news. The cell carriers Telus and Bell have announced pricing and availability for the iPhone 3G and 3GS. In addition, Rogers will be announcing an update to its pricing."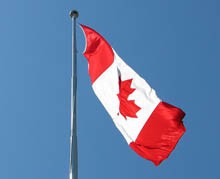 Telus and Bell announced their pricing and availability, ranging from $99.00 CAD for the 8GB to $299.00 CAD for the 32GB 3GS. The data plans vary a bit, ranging from $50.00 CAD to $100.00 CAD with variety of plans in between for both companies depending on the data plan you choose. Rogers is also supposed to be announcing their plan soon. From what I gather in the article, location may be your determining factor due to the coverage areas, so check out the coverage map provided by iphoneincanada.ca prior to purchase.
I agree with the author; I'm jealous of all the competition our neighbors to the North have going on and wish we had it!
---