Monday, December 21, 2009
Posted by Jeff Campbell in "Apple Software (iPhone/iPod Touch)" @ 08:00 AM
"Kevin Smith, the often praised writer/director/actor, now has his own official iPhone app thanks to developer DenVog."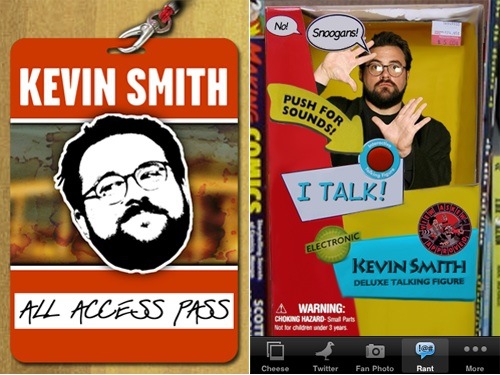 You might as well hear it from the man himself: "'Yes, it may be the Pet Rock of the 21st century. But be honest: you've spent .99 cents on way dumber crap. If you're remotely into my nonsense, at the very least, this me-centric app will make you smile. At the very most, you'll put a noose around your neck, utter "It's all for you, Official Kevin Smith iPhone App!", and step off a ledge. Let's hope your reaction's somewhere betwixt the two.' - Kevin Smith."
I have to agree, I've wasted $0.99 USD on a lot of crap, this one is pretty entertaining (yes, I did buy it and yes I'm a fan), and as a bonus you get a custom ringtone (iPhone only and available now on iTunes). On another note, if you haven't heard, he will be hosting a Q&A at Macworld 2010 about technology and it's uses in independent film making.
---