Tuesday, September 21, 2010
Posted by Jason Dunn in "Digital Home Hardware & Accessories" @ 05:00 AM
"SCOTTS VALLEY, Calif. - September 21, 2010 - Designed to address the explosive worldwide demand for digital storage, Seagate (NASDAQ: STX) today launched the world's first 1.5 terabyte (TB) 2.5-inch portable external drive. Available immediately, the new 1.5TB FreeAgent® GoFlexTM ultra-portable drive delivers an all-in-one, technically advanced solution to help jump-start, build, store and enjoy libraries of digital content in one's preferred medium-whether on a Mac or PC, or a television, at home or on the go. With 1.5TB of capacity people can now store and carry up to 60 HD movies, 750 video games, thousands of photos or tens of thousands hours of digital music."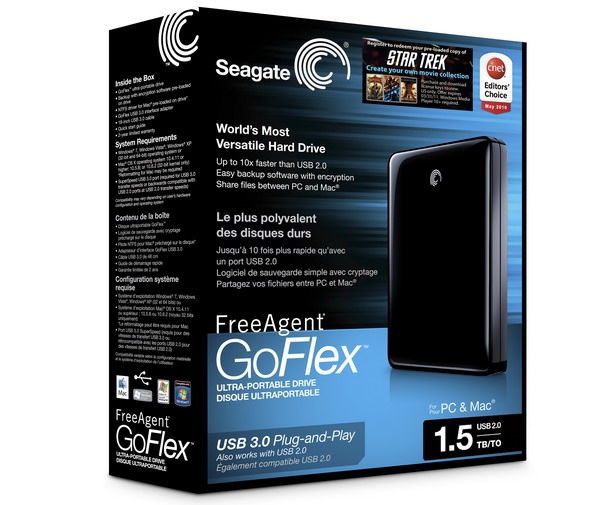 There's not a lot you can do to make hard drives exciting beyond offering them with more storage, or faster speeds - but Seagate is giving it their best shot with the FreeAgent GoFlex drive, which offers both. First we have the 1.5 terabytes of storage - that's an amazing amount of storage for a drive that you can fit in your pocket! They've added speed as well with the USB 3.0 connection; I don't have a single computer with USB 3.0 yet - and realistically, USB 3.0 won't be common until Intel and AMD support it at the core chipset level - but it's important for accessory makers like Seagate to bring products like this to the market to drive adoption. The nice thing about USB 3.0 is that it's backwards compatible with USB 2.0, so you're not losing anything by purchasing products with it - and when you to get a computer with USB 3.0, products like this one will become even faster. Nice!
Like all Seagate GoFlex drives, it comes with an OS X NTFS driver, so it will work on both your Mac and PC without re-formatting. And you can swap the cable for Firewire 800 (it's an additional accessory) if you're so inclined to get a boost in speed over USB 2.0 on your Mac.
A little bit of extra icing on the cake: you'll get a free digital copy of the most recent Star Trek movie, and the option to purchase unlock codes for 20 other Paramount movies. I wonder if it's an HD copy of the movie? I suspect not. Still, not a bad little bonus!
Full press release after the break. Read more...
---