Monday, March 16, 2009
Posted by Vincent Ferrari in "Apple Software (OS X)" @ 12:00 PM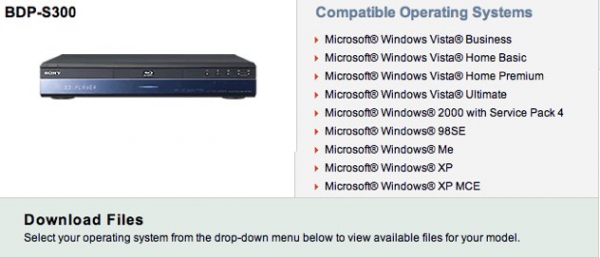 Let's face it. One of the harsh realities of having a Mac is that sometimes some dopey companies make decisions that, to say the least, defy all semblances of logic. Take for instance, Sony. A friend of mine has a Sony BDP-S300 Blu Ray player. Of course it won't play some newer movies, and since he doesn't have an ethernet jack on his, that means he has to burn a disc with the firmware update, drop it in the player, and let it roll. He had some issues with burning the disc, and he tweeted that he needed a Windows PC to do it. No problem, I have Parallels, so I decided I would see if I could help out. I went to Sony's page for the firmware update and was surprised to see the downloads were only for Windows-based PC's.
Since I have parallels, this isn't really an issue for me, so I grabbed the file, and extracted it, and lo and behold what do I see? An ISO file! That's right, Sony packed an industry standard ISO file inside a Windows self-extractor. For what reason? Darned if I know, they just decided that only Windows users should be able to update their Blu-Ray players, I guess. Linux and Mac users? Well, despite the fact that the firmware is inside an industry-standard ISO, you can't play because you didn't succumb to the Redmond Kool-Aid.
I'm sorry, but does this really make sense to anyone?
---