Wednesday, June 3, 2009
Posted by Jeff Campbell in "Apple Software (iPhone/iPod Touch)" @ 08:00 AM
"Electronic Arts' highly anticipated release of The Sims 3 for Mac, Windows, and iPhone happened Tuesday. New features in the computer version, which is available as a hybrid disc, include more customization options for Sims' looks, the ability to choose up to five traits to construct unique personalities, goal-oriented gameplay with short- and long-term objectives, new movie creation capabilities, and more."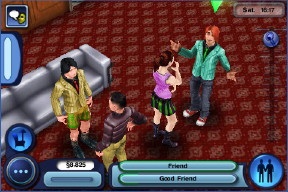 You can now continue your obsession with The Sims with your iPhone. For $9.99 USD that is, which requires iPhone OS 2.2 and includes $10.00 in Sims Points that you can use to purchase in-game items. They also have a store where you can purchase more Sims Points if you need them.
I've dabbled a bit with the Sims games for the Mac but not enough to make this worth $9.99 USD to me. My daughter on the other hand loves this game so I'm sure we will end up buying it. So perhaps I may load it up and give it a try. Any of you into The Sims enough to give this game a try?
---