Saturday, June 20, 2009
Posted by Vincent Ferrari in "Apple iPhone & iPod Touch" @ 09:25 AM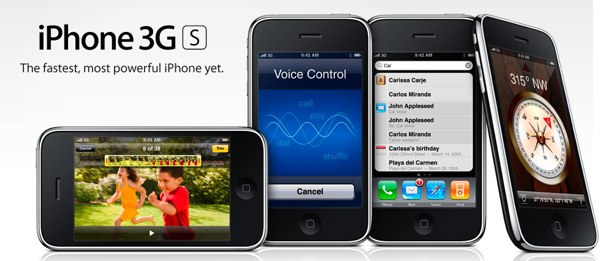 Let's face it, the iPhone 3GS is loaded with hype. There isn't one thing about it that hasn't been described as "great," "amazing," or "better," and so on. While it didn't get the revolutionary attention and wasn't as far a leap as the 3G and OS 2 was, expectations were high.
So how did it go down yesterday? Let's discuss.If you preordered your 3GS, you did pretty well if you did it right away. I ordered mine the day after WWDC and Friday morning, right on schedule, Fedex popped into my office at around 10:45 and handed me the box. Oddly enough, it shipped from Ingram Micro, not directly from Apple. I guess Apple isn't equipped to handle that kind of fulfillment demand?
Knowing the procedure with an iPhone is important. You're not supposed to swap SIMS from the old phone to the new one. Instead, you're meant to plug into iTunes and activate. That initiates a SIM swap and activates the phone. It's amazing how bad Apple is at this part of the process. If you're a new activation, it goes very quickly, but if you're upgrading... Wow... It can be painful most of the time.
For example, upon plugging in and finishing the initial copy of stuff over, I saw this message indicating I would have a really crappy wait...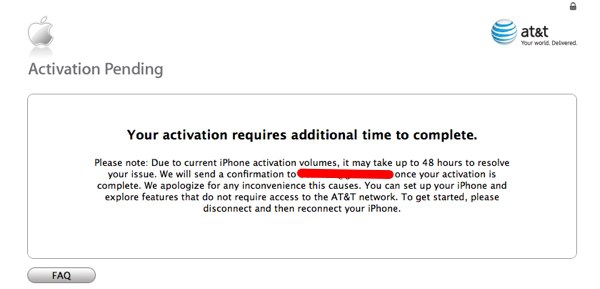 Wait, there's an FAQ! Obviously, that'll be helpful!

Any questions? Thought not.
Damn was I annoyed. I knew it was coming, though, so I wasn't that surprised. I let the initial backup finish and then took the phone off my MacBook Pro and opened the SIM Slot and popped my old SIM in, violating rule number one of the Apple Universe, and just like that, I was up and running. I knew I'd have a problem when the activation finished, though, so I taped the "SIM Removal Tool" and the new SIM to a piece of paper and put them in my wallet just in case the activation finished while I was out with my wife last night.
At 7:53pm, my wife got the E-Mail (she's the primary on the account)...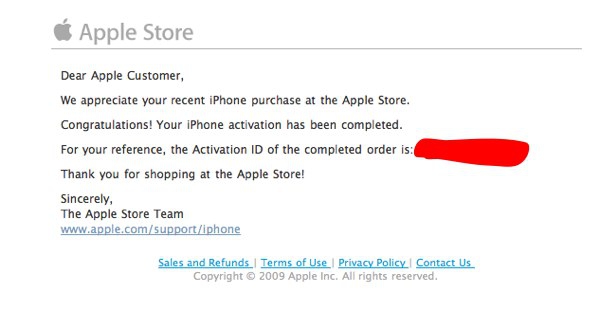 Sure enough, my phone stopped accepting phone calls. A switch of the SIM and I was up and running. Surprisingly easy.
Some people are still waiting for their activation to finish at this very moment, but I think in the end they'll be done quicker than they think. I can't imagine the load is as high now as it was this morning as Fedex started dropping off boxes to the first batch of preorders.
---