Tuesday, October 20, 2009
Posted by Jeff Campbell in "Other Apple Hardware" @ 01:30 PM
"As rumored, Apple has just introduced a new mouse called the Magic Mouse. This mouse will bring Multi-Touch capabilities to desktop Macs for the first time, something that the iPhone has had since its release in June 2007 and the MacBook Air since it was released in February 2008."

Image Credit: Apple
Ugh, I hate this name too, but I love the mouse itself. This requires Mac OS X 10.5.8 and will go on sale in late October for $69.00 USD. But wait! There is more...
"Control your Mac, iPod, or iPhone from afar with the sleek aluminum Apple Remote. Play, pause, adjust volume, move forward and back, and access menus while playing music and video."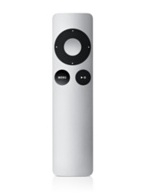 Image Credit: Apple
Not to be outdone, the remote also got an update, which gives it that same aluminum look. Three buttons for your remote-ing enjoyment, available about the same time as the "Magic Mouse" and retails for $19.00 USD.
---