Wednesday, September 29, 2010
Posted by Don Tolson in "Windows Phone Accessories" @ 07:00 AM
Charging It Up...
As mentioned earlier, you can charge up the unit from a variety of sources. You can use the supplied wall charger and USB to mini-USB cable, or you can charge it up from an active USB port on a PC. Out of the box, I decided to charge the unit from the wall. Once it's connected, the charge light on the front panel glows red to show you it's charging.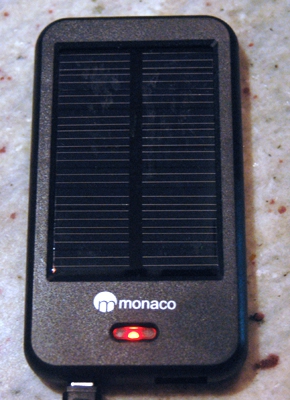 Figure 5: When the included battery unit is charging, the LED on the front glows red. When complete, it glows green.
After about 8 to 9 hours (I wasn't sure of the exact timing), the LED changed to green, indicating it was fully charged and ready to go.
One of the distinct advantages of this unit is that you can charge it up and use it even if you're not near a source of external power. After depleting the battery (see below), I stuck on the front dash of the car as I was driving around to client sites. Despite what they say on the website, my unit was fully recharged after just over 3 hours in the sunlight. I did some testing of the solar cell indoors as well. The cell isn't sensitive enough to charge using ordinary office or home lights -- it needs sunlight -- but it will charge with sunlight through an unfiltered window. Unfortunately, all the windows on my office building have that reflective film attached so the charger wouldn't react at all.
It seems the unit recharges much faster after the initial charge. Possibly because the battery is completely run down with use, but subsequent charging via the wall charger only took 4 to 5 hours.
In Daily Use
After fully charging the unit from the wall, I attached it to my Tilt2 and ran it as the primary power source -- keeping the Tilt's battery at 100% and handling multiple calls, email updates, etc. It was able to keep things going for about a day and a half. Not too bad and certainly useful as an emergency power source, considering that still left me with a fully charged battery in the Tilt2.
The battery supplied in the Monaco is rated at 1800mAh, which provides plenty of ooomph to run and charge most cell phones and other handheld devices. There is a long list of compatible phones on WirelessGround's website it should be able to work with any phone/device that can be powered/charged from a USB port.
The solar panel is a good size, so it gathers a lot of sunlight energy in a short period of time, and the unit is small and light enough that it doesn't add a lot of bulk to my pocket.
Conclusion
The Monaco is very good as a rechargeable backup battery for emergency use and it's handy to have it rechargeable from a variety of sources -- a wall socket or USB port if they are available, or using solar power if you decide to be green or are away from power sources. It's definitely something I'll be keeping in my accessory kit bag.
Don is a Solution Architect with Fujitsu Consulting, specializing in Security and Project Value Management. He's been working with PDAs and Smartphones since the early days of the Sharp Wizard, iPAQ and Jornadas. As the Enterprise Mobility lead for North America, he works with clients who want to take their applications that one step further into 'mobility' by putting them right on the corporate phones.

Do you enjoy using new hardware, software and accessories, then sharing your experience with others? Then join us on the Thoughts Media Review Team! We're looking for individuals who find it fun to test new gear and give their honest opinions about the experience. It's a volunteer role with some great perks. Interested? Then click here for more information.

---