Tuesday, October 19, 2010
Posted by Darius Wey in "Apple Software (OS X)" @ 09:05 AM
Advanced media management within Photoshop is now possible, thanks to the introduction of a panel known as Mini Bridge. And while helpful, there is a catch: Bridge CS5 needs to be running in order for Mini Bridge to work. Fortunately, Photoshop automatically launches Bridge when you access Mini Bridge, but still, this dependency is just one of those oddities which we can only hope that Adobe will address in future versions.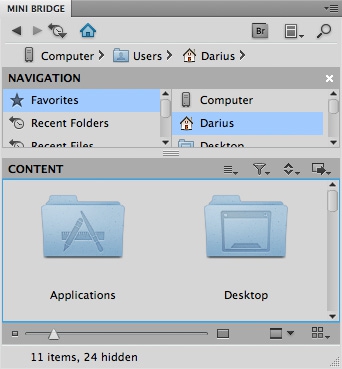 Figure 9: Mini Bridge. It's Bridge in a Photoshop side panel.
Multitouch Support
First introduced in CS4, multitouch support is an absolute boon in Photoshop. A bit of context? I'm right-handed; I run Photoshop on a Mac Pro, together with a Wacom tablet behind the keyboard, a Magic Mouse on the right side of the keyboard, and a Magic Trackpad on the left side of the keyboard. Being able to mouse or draw with my right-hand? Nothing exciting there. Being able to do all that while taking advantage of zoom and scroll gestures on the Magic Trackpad with my left hand? That's certainly something worth telling people about. It's these little things that make an already excellent product just that little bit better. Multitouch support in Photoshop, together with the Magic Trackpad, has definitely improved my workflow. Of course, it goes beyond the Magic Trackpad. If you're rocking a MacBook or MacBook Pro with a multi-touch trackpad, you may find that your workflow will be improved, too.
64-Bit and GPU Acceleration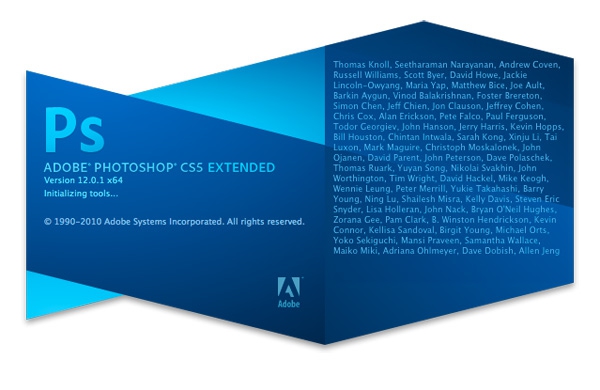 Figure 10: x64. Seeing is believing.
64-bit support in Mac OS is finally a reality with CS5. And with the number of people dealing with RAW and multi-megapixel images on the rise, the ability to leverage oodles of RAM is definitely well overdue. Unlike in Windows, there is only one universal binary for Mac OS. 64-bit is enabled by default, with 32-bit available as an option via the Get Info panel in Finder. From my testing, I have found 64-bit to be faster, particularly when dealing with larger images. But don't just take my word for it. If you're the kind of person who appreciates a benchmark or two, John Nack from Adobe has some 32-bit vs 64-bit results for your perusal.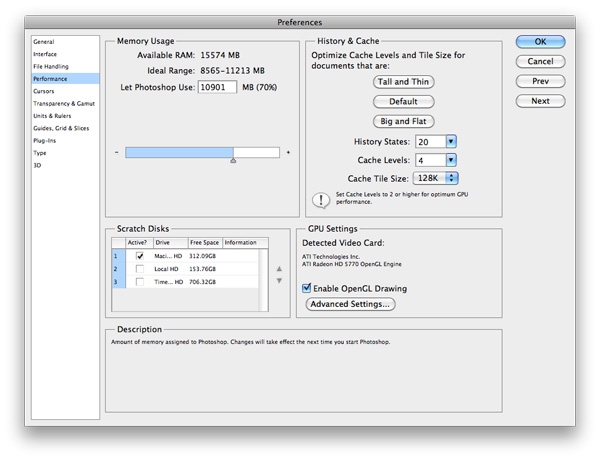 Figure 11: CS5 lets you tap into that GPU and all of that RAM.
While not new to Photoshop, CS5 enhances GPU acceleration by supporting OpenGL drawing in some of its newer features such as Scrubby Zoom and Repoussé. All that's needed is a supported GPU.
User Interface
If there's one area that Adobe wins no awards, it's UI unification in Mac OS. It has never been consistent across Adobe's applications, let alone within a single application. Photoshop is certainly no exception. In my tests, I discovered some windows with rounded corners and some windows with sharp corners, along with inconsistent-looking sliders, drop-down menus, and buttons. Yet despite all that, dare I say that CS5 probably sports the most unified UI of all Photoshop versions thus far. Still, there is plenty of room for improvement. It's hard to say if Adobe will ever nail this aspect, but we can only hope.
Conclusion
Photoshop is just one of those impressive beasts that has very little competition. Other apps such as Pixelmator and Acorn have tried to steal some marketshare, and while they're great for some basic graphic work, photographers and graphic designers will probably agree that Photoshop is still best for the heavy lifting. What's been discussed in this review is just a mere handful of CS5's impressive features. It is, without a doubt, the best Photoshop to date. CS4 was arguably a mixed bag, but Adobe certainly deserves a pat on the back for its efforts in CS5.
Unfortunately, Adobe has never priced its products competitively, so the decision to upgrade can be a tough one. If you have CS3 or earlier, and have the cash to spare, then the upgrade is definitely worth the price of admission. If you're rocking CS4, then CS5 offers some noticeable improvements. Whether it's worth the jump depends highly on your needs. But all in all, CS5 rarely disappoints.
Darius Wey is a designer, developer, and Microsoft MVP based in the sunny coastal city of Perth, Australia. He previously worked as a Software Engineer at IBM and served as the News Editor at Windows Phone Thoughts for many years. Today, he runs Codesparq, a business specializing in the design and development of mobile applications.

Do you enjoy using new hardware, software and accessories, then sharing your experience with others? Then join us on the Thoughts Media Review Team! We're looking for individuals who find it fun to test new gear and give their honest opinions about the experience. It's a volunteer role with some great perks. Interested? Then click here for more information.

---