Wednesday, July 29, 2009
Posted by Vincent Ferrari in "Apple Software (iPhone/iPod Touch)" @ 07:00 AM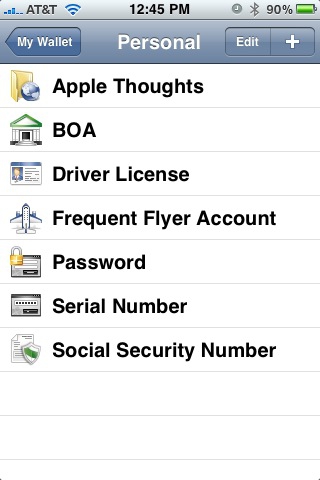 The Claim: "SafeWallet is a secure storage application designed to help you manage all your private information in one secure solution! Use SafeWallet to store all kinds of information, such as: credit cards information, online passwords, bank account info, registration codes, ATM PINs, emergency contacts, addresses, serial numbers and create your own card templates for your own custom information! SafeWallet uses 256-bit AES encryption, in accordance with the standard adopted by the U.S. government, to ensure the safety of your sensitive information!"
The App: SBSH SafeWallet is one of the premiere digital wallet applications for Windows Mobile, Symbian S60 and BlackBerry Handhelds. Will their latest release of their first iPhone app hold up to the reputation of its predecessors? Read on to find out!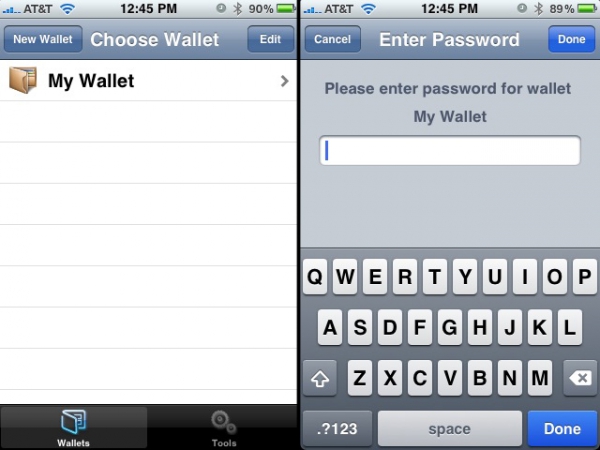 The Details: SBSH SafeWallet consists of two parts: an application for your iPhone or iPod Touch and a companion application for your Windows-based PC (the Mac version is in the works, folks). Tapping on the application from your device's Springboard immediately brings you to the wallet selection screen. The number of wallets you can store is theoretically unlimited except by the space you have on your device. Once you select a wallet, you'll be prompted for its accompanying password. As mentioned earlier, your data is stored using 256 bit AES encryption, meaning if anyone does somehow get your wallet into their posession, it'll be practically impossible to decrypt your data. The weakest link is your password, as usual, so make sure it's a good one.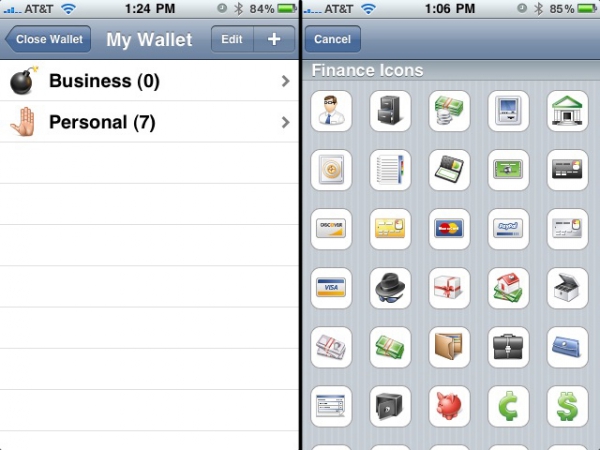 I'm not the type to gravitate to folders. I usually prefer all my data in one long list. That being said, the ability to change icons to represent different kinds of data is pretty awesome. There are hundreds of icons to choose from and one of them is sure to match the category of the folder. If you're a "place for everything and everything in its place" type, you'll enjoy the folder and subfolder capabilities.
Adding cards is equally intuitive, and equally customizable.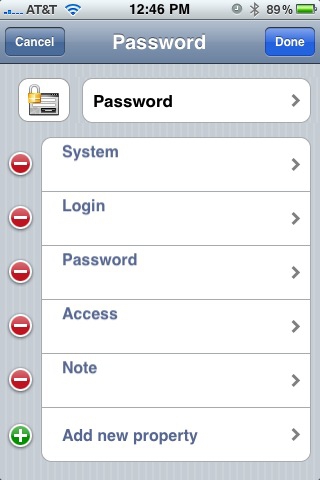 In fact, for every card you add, you can change the name of the card, remove any of the default properties for the card (helpful if you have less than the template shows), and in case the templates don't exactly meet your needs, you can customize the card by adding additional fields to the individual card. This doesn't alter the template, though. For adding and changing templates you'll need the desktop companion (a minor quibble for me, seeing as the Mac version isn't available yet).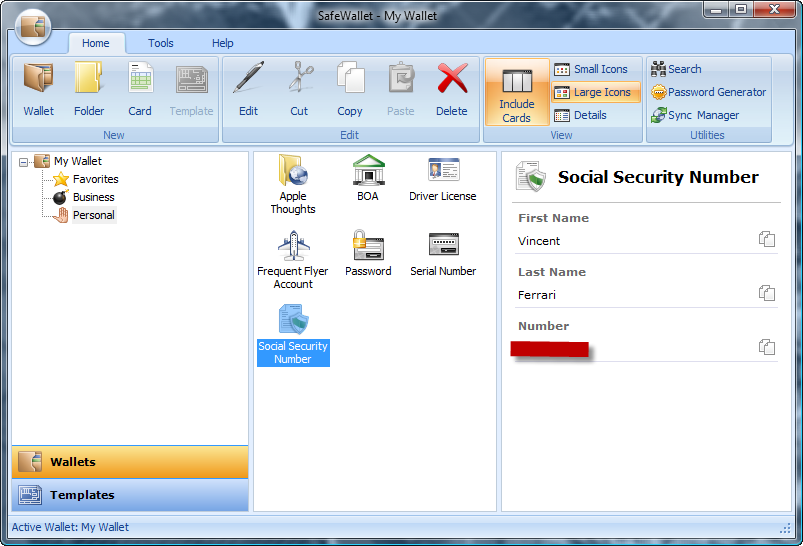 Syncing with the PC Companion is as simple as running the Windows version of the application on a computer that's on the same WiFi network as the iPhone or iPod Touch you have SafeWallet installed on and clicking on Sync Manager on the PC and going into Tools and Sync Mode and voíla! Couldn't be simpler.
It's also nice that they've licensed Microsoft's Ribbon. Even though SafeWallet isn't integrated into Office, it does feel like it belongs in Windows. Love it or hate it, it's consistent with other Windows apps (or at least the look Microsoft is standardizing on). A piece of advice, though. If you do want to sync with your iPhone, you have to make sure the "SBSH SafeWallet for iPhone / iPod Touch" is checked during the install or the sync component won't be installed. Even if you never plan on syncing your iPhone with a copy of iTunes on Windows, you still need to check this option; something I learned the hard way!
---