Thursday, January 6, 2011
Posted by Jeff Campbell in "Apple Software (OS X)" @ 03:30 PM
"So, we've installed 10.6.6 and now we're going to bring you our impressions of the Mac App Store, so bear with us as we dive in."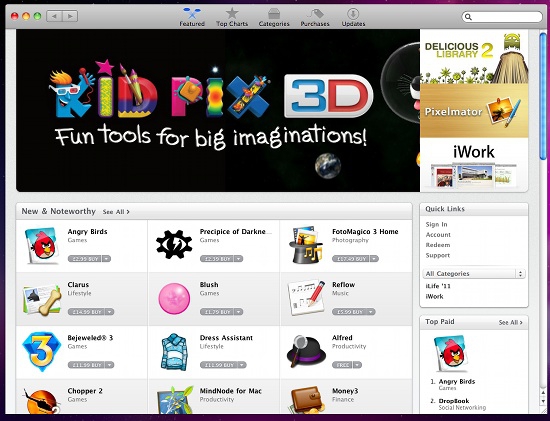 A short and sweet tour of how to access the store, once you have installed the 10.6.6 update of course, and this isn't the only bit of news about the Mac App Store today. There are several more in-depth FAQ or "how to" articles already on how it all works, such as this one from MacLife, or this one from Appletell. If you haven't updated and want to see what the big deal is, you can head over here to Gigaom and watch the video that shows it in action.
It hasn't all gone smoothly, as several errors have popped up, namely the "100" error and the "MZFinance.NoGUIDTokenFailureKey_message" error message. The 100 error message is fixed most often by closing down and restarting the app store, or at most restarting your machine. No fix as of this posting for the failure key error message, but Apple is working on it. One error message I won't mind seeing is when you try to purchase an app that is already installed on your machine, as the store will remind you that you have it. Even if it is software that wasn't purchased via the app store.
Several sites have done some picking at the store, namely TUAW with their "Missing Apps" story, as well as Ars Technica outlining some quirks with their "Off to a Good Start" story, and a warning for developers about making sure they have "receipt checking" enabled, but overall the press has been positive. And the number one app so far? Yea, Angry Birds is leading the flock.
Bottom line is if you have used iTunes for app purchases for your mobile device, you are going to feel right at home at the Mac App Store.
---