Wednesday, June 10, 2009
Posted by Jeff Campbell in "Apple iPhone & iPod Touch" @ 12:00 PM
"As well as faster hardware and a better camera, the new iPhone 3GS has a surprise feature that totally sells it for me: an oleophobic coating that makes the screen resistant to face oil and fingerprints."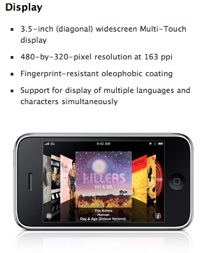 No mention of this on the regular 3G site, just the mention above on the 3G S site for technical specs so I guess this is another update, but one I hadn't heard mentioned in any of the articles until now. Anything they can do to lessen the smudges is ok in my book, but I'm not sure how well it will work, even with a fancy coating. To be honest, I don't really notice them at all unless my screen is dark, then they are very visible. But when I'm using the iPhone smudges don't show up at all so it doesn't hinder my use in any way.
But if they do bother you and you want to make sure you are cleaning it correctly, the Apple site has a special section on this very topic: "If your iPhone has an oleophobic coating on the screen (iPhone 3G S only), simply wipe your iPhone's screen with a soft, lint-free cloth to remove oil left by your hands and face."
---