Tuesday, April 21, 2009
Posted by Jeff Campbell in "Apple News" @ 10:00 AM
"Apple's long been highly-ranked in a number of business-related lists, but on Monday, Fortune announced that the company had jumped into the Fortune 100 list for the first time since 1994, coming in 71st place. That's a 32 spot improvement on last year, when it ranked just outside of the crème de la crème at 103."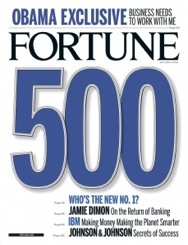 The last time Apple made the top 100 was during the OS 7 days in the early 1990s. Seems so long ago doesn't it? These rankings are for the largest companies based on their gross revenue and adjusted for certain taxes. Also in this years list Exxon-Mobile edged out Wal-Mart for the top spot. You can see the entire Top 500 at the Fortune site.
And before we get too excited, keep in mind this was before the Windows ads came out. Just sayin'.....
---