Monday, April 26, 2010
Posted by Jeff Campbell in "Apple Software (iPhone/iPod Touch/iPad)" @ 12:00 PM
"As many of you have probably realized by now, we don't have many sales and we don't do free very often. So here is your chance to take advantage of the deal no one can refuse, a FREE Copy of Cram for iPhone."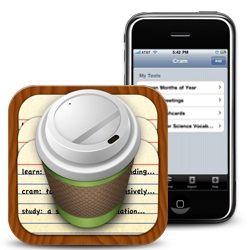 This is a pretty good program for what I paid for it (I can't remember the price,but it was at least $2 or $3 I think, when I was looking for a good flash card app for my daughter's iPhone), so this is a great deal for free. And it is only for today, as the price will go up $0.99 USD each day after until it gets back to the regular price. Head on over to iTunes now!
And if this isn't incentive enough they are giving 20% discounts for the desktop Mac version that normally sells for $29.95 USD for a single license, as long as you use the code "FINALS" when you check out.
---