Tuesday, November 11, 2008
Posted by Vincent Ferrari in "Apple Software (OS X)" @ 11:30 AM
"BoinxTV is the pioneering live-production software for video podcasters that turns any recent Mac into a TV studio 'for the rest of us'. Record high quality video podcasts, sports events, concerts, interviews, sermons, lectures, seminars and more using just your Mac and up to three cameras. With its innovative user interface, BoinxTV makes it easy to create professional 'TV style' recordings, setting a new quality level in the production of video podcasts."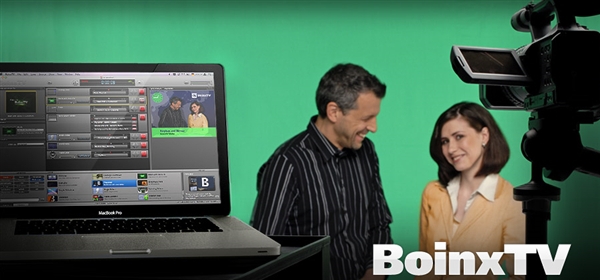 As someone who produces a lot of media (particularly video), this kind of app is a Godsend. If you watch the screencast you can see that it was developed (as are all the Boinx apps I've ever used) for normal people to get the most out of. What caught my attention the most was how easy it was to add lower thirds, split screens, and even chromakey (something that most good desktop software makes into a real chore). I'm not sure if I'd trade Final Cut Express for this, but it does cater to a different market, namely folks who want to record, produce, upload, and distribute very quickly. Even the pricing is clever: $199 for a sponsored version with a 5-second BoinxTV credit in each video, or $499 for the full version with no sponsorship.
What's the verdict, loyal readers? Interested? I know I am...
---