Monday, November 10, 2008
Posted by Vincent Ferrari in "Apple iPhone & iPod Touch" @ 02:00 PM
"RadarScope is a specialized display utility for weather enthusiasts that allows you to browse NOAA's public NEXRAD Level 3 data feed. It can display the latest reflectivity and velocity data from any NEXRAD radar site in the lower 48 United States. These aren't smoothed PNG or GIF images, this is real Level III radar data rendered in its original radial format for a high level of detail. Whether you are scanning reflectivity for a mesocyclone's tell-tale hook echo, trying to pinpoint the landfall of a hurricane's eye wall, or looking for small features like velocity couplets in the radial velocity product, only RadarScope gives you the power to view radial NEXRAD weather radar on your iPhone or iPod."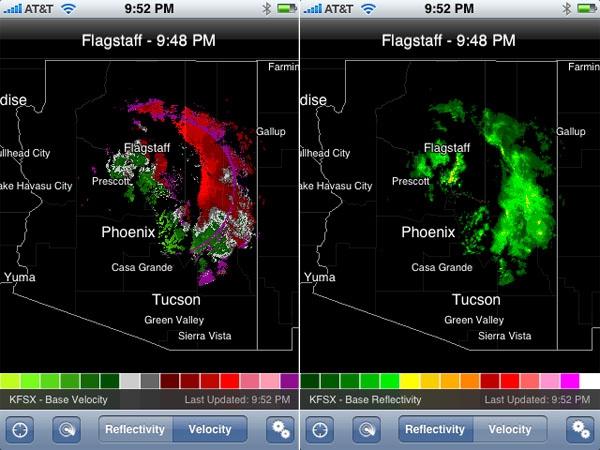 Above: The left image shows Base Velocity (windspeed) and the right shows Base Reflectivity (precipitation).
I have to admit that Stormchasers has turned me into a bit of a wannabe meteorologist, so when I found this app over the weekend I grabbed it immediately. If you're into radar reading and detailed info, this is your app. It'll find you based on your GPS position and will let you choose the radar whose data you'd like to view. It's $9.99 in the App Store, and despite the few negative reviews from people who don't understand what the app actually does, it's quite cool and is one of those great little apps you can use to impress your friends when you demo your iPhone.
---