Tuesday, September 21, 2010
Posted by Jason Dunn in "Digital Home Hardware & Accessories" @ 05:00 AM
"SCOTTS VALLEY, Calif. - September 21, 2010 - Designed to address the explosive worldwide demand for digital storage, Seagate (NASDAQ: STX) today launched the world's first 1.5 terabyte (TB) 2.5-inch portable external drive. Available immediately, the new 1.5TB FreeAgent® GoFlexTM ultra-portable drive delivers an all-in-one, technically advanced solution to help jump-start, build, store and enjoy libraries of digital content in one's preferred medium-whether on a Mac or PC, or a television, at home or on the go. With 1.5TB of capacity people can now store and carry up to 60 HD movies, 750 video games, thousands of photos or tens of thousands hours of digital music."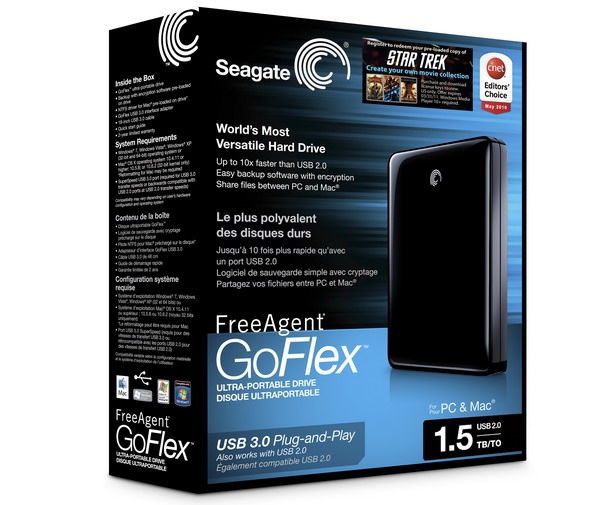 There's not a lot you can do to make hard drives exciting beyond offering them with more storage, or faster speeds - but Seagate is giving it their best shot with the FreeAgent GoFlex drive, which offers both. First we have the 1.5 terabytes of storage - that's an amazing amount of storage for a drive that you can fit in your pocket! They've added speed as well with the USB 3.0 connection; I don't have a single computer with USB 3.0 yet - and realistically, USB 3.0 won't be common until Intel and AMD support it at the core chipset level - but it's important for accessory makers like Seagate to bring products like this to the market to drive adoption. The nice thing about USB 3.0 is that it's backwards compatible with USB 2.0, so you're not losing anything by purchasing products with it - and when you to get a computer with USB 3.0, products like this one will become even faster. Nice!
Like all Seagate GoFlex drives, it comes with an OS X NTFS driver, so it will work on both your Mac and PC without re-formatting. And you can swap the cable for Firewire 800 (it's an additional accessory) if you're so inclined to get a boost in speed over USB 2.0 on your Mac.
A little bit of extra icing on the cake: you'll get a free digital copy of the most recent Star Trek movie, and the option to purchase unlock codes for 20 other Paramount movies. I wonder if it's an HD copy of the movie? I suspect not. Still, not a bad little bonus!
Full press release after the break.
"Today's announcement is a 'triple-crown' of consumer technology-packaging record breaking capacity, blazingly fast USB 3.0 connectivity and the bonus of major motion picture entertainment-making the 1.5TB GoFlexTM ultra-portable drive an unprecedented and innovative solution," said Darcy Clarkson, vice president of Global Retail Sales and Marketing for Seagate. "Bringing this solution to market on the heels of our 3TB GoFlexTM Desk drive and the Momentus® XT solid state hybrid drive is proof of Seagate's continuing technology leadership and tradition of setting storage industry milestones."
Shipping now in the United States and rolling out globally later this year, all 1.5TB GoFlex ultra-portable drives[1] will ship with a USB 3.0 interface cable, accelerating the transfer speed of a drive up to 10x when connected to a USB 3.0 port, when compared to a USB 2.0 port. For example, a drive using a USB 3.0 connection can transfer a 25GB HD movie in under five minutes versus the 14 minutes it would take using a traditional USB 2.0 drive[2]. In addition, all GoFlex ultra portable drives will now also ship with the new superspeed USB 3.0 cable, which will still continue to work with existing USB 2.0 ports.
"Consumers continue to push the growth of digital music, photos, and video content, and increasingly want access to this content from a variety of CE devices, including a PC," says John Rydning, IDC's research director for hard disk drives. "Higher capacity disk drives in combination with higher bandwidth interfaces like USB 3.0 will help to make a greater number of large multimedia files more accessible from multiple devices in the home."
A key addition to the GoFlexTM family, the new 1.5TB GoFlex ultra-portable drive delivers ultimate flexibility in how people collect, protect, share and enjoy their digital libraries, all in a convenient compact package. In addition to coming bundled with USB 3.0 connectivity, the drive can be used with an array of add-on cables and accessories such as the GoFlexTM Net media sharing device and the GoFlexTM TV HD media player, that provide the flexibility to enjoy your content on a TV, a network, using a mobile device, or via the Internet.
Continuing the special offer with Paramount Digital Entertainment, a division of Paramount Pictures Corporation (PPC), specially-marked packages of the new 1.5TB and the 1TB GoFlex ultra-portable drives will contain Paramount Pictures' popular film, Star Trek (2009), which can be activated free of charge. Each drive will also contain an assortment of 20 Paramount Pictures movies that can be easily and securely unlocked by purchasing a license key online. The films will be licensed for multiple devices to allow for portability and enjoyment on a Windows® OS desktop computer, laptop computer, or widescreen television, by connecting the drive to one of the two available USB ports on a GoFlex TV HD media player[3]. Paramount content will also be added to additional capacities of the GoFlex Pro ultra-portable drive in October.
All 1.5TB GoFlex ultra-portable drives are compatible with both the Windows® operating system and Mac® OS X computers. Each drive includes an NTFS driver for Mac, which allows the hard drive to store and access files from both Windows and Mac OS X computers without reformatting. The NTFS driver is simply installed once on the Mac® OS X computer, allowing it to read and write files on a Windows formatted[4] drive.
The 1.5TB GoFlex ultra-portable drive with USB 3.0 adapter is available in black and can be purchased on Seagate.com and through select retailers for $249.99.  About SeagateSeagate is the worldwide leader in hard disk drives and storage solutions. Learn more at http://www.seagate.com.
---