Wednesday, October 27, 2010
Posted by Jeff Campbell in "Apple Laptops" @ 07:33 AM
"You can forgive Steve Jobs for a bit of hyperbole when he's on stage introducing new products to an audience of thousands of people following along via a live video stream and countless liveblogs. 'It's like nothing we've ever created before,' Jobs said when introducing the new MacBook Air. 'We think it's the future of notebooks.'"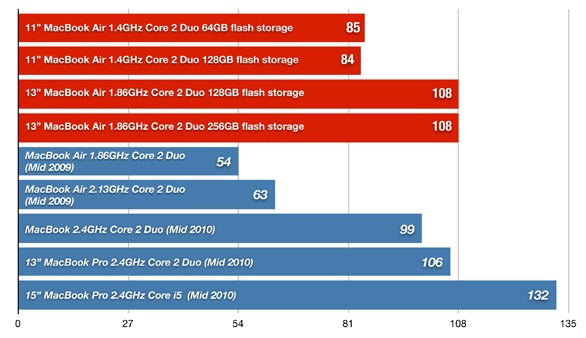 And while Macworld likes what Apple presented, they were not too wowed by the 13.3 inch MBA, saying it was basically an improved version of the original. But when it comes to the 11.6 inch version they were impressed, calling it the "most novel new Mac released since the Intel Mac era began." The most interesting piece of the review for me was the benchmark section, in which you can see that the flash storage really make a difference when it comes to the speed of the new MacBook Airs. Granted, these tests were against the previous versions using the Core 2 Duo (the newer MB 15-inch and 17-inch use the i5 and i7 processors) but it does show you what a difference the flash storage makes. The review is thorough and if you are considering a new laptop like I am, or just plain curious, this is good information.
If you are really curious, you can also read what MSNBC has to say about them, or what the "most beloved Mac pundit" Andy Ihnatko thinks. Tech Crunch even has an opinion on the MacBook Air.
---