Wednesday, December 1, 2010
Posted by Jeff Campbell in "The Competition" @ 02:00 AM
"AirPrint is currently Mac only and works exclusively with a few HP printers. For Mac users without one of those fancy AirPrint-compatibile printers there's a fantastic Mac application called Printopia but what about Windows? For Windows husers who want AirPrint to work with their computer there is a new tool called 'AirPrint Activator.'"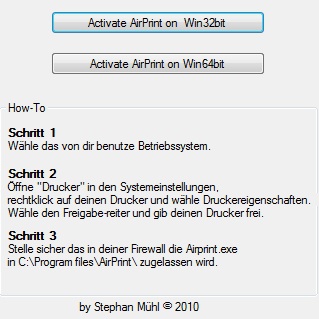 As you can see, the directions are in German, but the translated version from 9to5Mac is as follows:
"Just download the one-click tool, install and activate AirPrint for Windows 32bit or 64bit. Then you have to have the printer in System Preferences (printer properties) to share. Already, all printer under Windows 32-bit or Windows 64-bit for IOS 4.2.1 and AirPrint available. Please note Step 3: AirPrint.exe must be enabled in Windows Firewall."
Seems straightforward enough, and you can go here to download the file, but as always, be careful on the Internets!
---