Thursday, February 24, 2011
Posted by Jason Dunn in "Other Laptops & Netbooks" @ 04:00 PM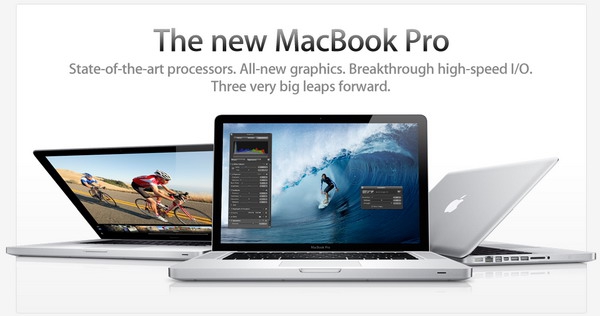 Apple announced a new line of Macbook Pro hardware today (buy 'em from our Amazon.com store), and I have to admit I was underwhelmed. Yes, they have Intel's rocking new Sandy Bridge CPUs that offer insanely great performance. Yes, they've switched from NVIDIA to AMD (ATI) graphics that offer up to 3x graphics performance. And, yes, there's the impressive Thunderbolt connectivity and an HD camera.
What was I hoping for? A product line that was shaped by the technologies and design that Apple came up with for the Macbook Air. There were so many things I liked about the Air when I reviewed it, but the CPU just didn't quite measure up. I returned it for a refund and was essentially waiting for this line of Macbook Pros to be released - I was hoping that the design cues I saw in the Air would trickle up to the Macbook Pro line.
What was I hoping for? Something thinner, lighter. Something with the same SSD technology in the Air. Something that had the 70:30 battery to motherboard ratio that the Air has. Something that felt like the future of notebooks, not like more of the same. Now I'm not knocking the design of the Macbook Pro laptops - there's a lot to like about them - but I was hoping for more of a revolution and less of an evolution.
Anyone else hoping for more? I should have known given that there was no live Apple event - they always do events for truly new products - but hope springs eternal...
---