Wednesday, June 22, 2011
Posted by Jeff Campbell in "Apple Software (iPhone/iPod Touch/iPad)" @ 12:30 PM
"When iOS 5 arrives this fall, the new split keyboard is one of the features that users will notice. After spending a week using the new split keyboard on the iPad 2, and comparing it to the split keyboard from SwiftKey on Android 3.0, I am a firm believer in doing it first doesn't always mean doing it best."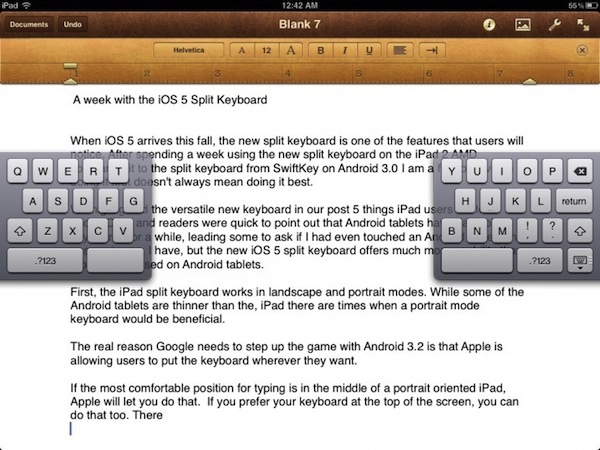 It works in portrait or landscape mode and you can move it wherever you need it on your screen, these two capabilities my friends make this keyboard so much better than what you can get on an Android device, or so says the author since I have yet to try it for myself. But it certainly makes sense, since by being able to move the keyboard you won't be blocking material you need to see while typing. And let's face it, sometimes you need to move to landscape mode (or switch back to portrait) for convenience and comfort.
His quote in the article pretty much says it all: "surprisingly, Apple is giving iPad users a lot of choice when it comes to the keyboard, and that translates into better user experience."
---