Monday, August 8, 2011
Posted by Jeff Campbell in "Apple Software (OS X)" @ 12:30 PM
"Orange UK and Apple have teamed up to deliver a free iTunes movie rental every Thursday to certain Orange UK subscribers."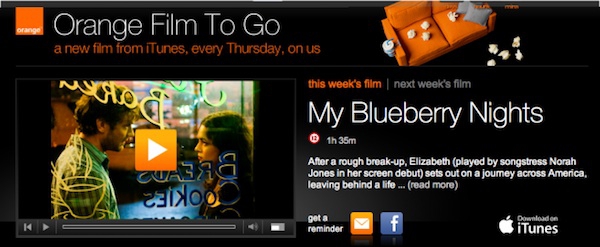 If you have the home broadband service, or use the pay monthly, pay as you go, mobile broadband or a business account, you will be able to get a redemption code for a free movie every Thursday. According to the press release, you can get the code in a variety of ways:
"Orange Home Broadband customers, as well as Orange mobile customers on pay as you go, pay monthly, mobile broadband or business will benefit from the offer every Thursday by simply texting 'FILMTOGO' to 85060* or via the dedicated 'Orange Film To Go' mobile app or by logging onto thefacebook.com/orangefilmclub page. From there they will be directed to enter the response code via theorange.co.uk/filmtogo website to start the iTunes download**, which can then be viewed on a laptop, PC or on an Apple mobile device so that customers have the flexibility to enjoy the film wherever they like."
More details available at the official website.
---