Thursday, March 5, 2009
Posted by Vincent Ferrari in "Apple Software (OS X)" @ 01:00 PM
"Safari started life in 2003 as a fast browser, at least by the then-low standards of Mac OS X web browsing, and it has gotten nothing but faster since. I fully expect other high-quality browsers like Firefox and Chrome to leapfrog ahead as they reach future milestones. What really matters isn't whether Safari is the fastest web browser in the world, but simply that its performance, in actual use, is state-of-the-art. Prior to Safari, this just wasn't true for any Mac web browser. The difference Safari and WebKit have wrought to web browsing (and HTML web view rendering system-wide) simply cannot be overstated. And so in a nut, the latest version of WebKit deserves nothing but accolades; but Safari 4? Well, we have some issues."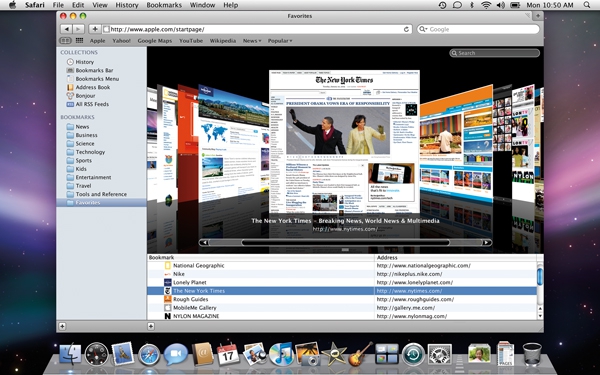 Most of his problems with Safari seem like minor quibbles that would be utterly transparent to 90% of the users. I do agree with him on the UI inconsistencies (including some things that were changed since Safari 3 for no apparent reason), but I don't think that's a big deal. For all we know, they're changing again in Snow Leopard and this is a preview of how things are going to be.
The one thing I'm totally sick of hearing about, though, is the damn progress bar in the address bar. Okay people, we get it. It's been over a week already. Either stop using Safari 4, put the damn thing back by hacking it in, or shut up! Seriously! I've never heard so much whinging over one stupid little feature.
---