Thursday, April 23, 2009
Posted by Vincent Ferrari in "Apple iPhone & iPod Touch" @ 11:00 AM
"Want more evidence that the Pre release is imminent? How about AT&T sending a document around their internal network for employees to bone-up on some anti-Pre, pro-iPhone talking points ...and then holding some in-store seminars for employees to make sure they get the message?"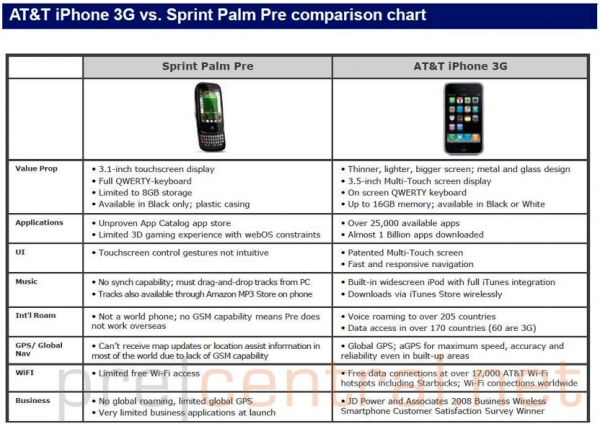 I've been in the wireless business for 12 years now, and I've seen these types of competitive intelligence documents from every single carrier every time the competition is about to release a big new product, so this certainly isn't an AT&T exclusive tactic. That being said, I hate these things with a passion because most of them are so overwrought with stretches, reaches, and silliness, that they're borderline lies.
Anyway, take this for what it's worth, but remember that it isn't from Apple and doesn't mean anything as far as Apple goes (unlike Engadget's ridiculous contention that because AT&T is writing this kind of stuff, it speaks for Apple, also). This is an AT&T thing, and they've done it before. No proxies involved.
---