Friday, May 15, 2009
Posted by Jeff Campbell in "Apple News" @ 12:00 PM
"Today Apple revealed some more details about the upcoming Worldwide Developers Conference via a press release available on their web site. Specifically, they give a firm date and time for the keynote speech of the event, and details about who will be involved."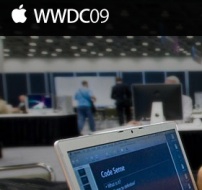 The Press Release from Apple says the keynote for WWDC will be on June 8 2009 at 10:00 am, and will be given by "team of Apple executives, led by Philip Schiller, Apple's senior vice president of Worldwide Product Marketing." I don't think it is too much of a shock, to anyone that has been following this story line, that Steve Jobs most likely wouldn't be there because of the health issues. The press release also outlines some of the other activities at WWDC, including over 100 technical sessions over a wide variety of topics, and that developers will be getting a copy of the final Developer Preview release of Snow Leopard.
But if you haven't purchased your WWDC keynote tickets by now you are out of luck as they are indeed sold out.
---