Thursday, July 16, 2009
Posted by Vincent Ferrari in "Apple Software (iPhone/iPod Touch)" @ 05:03 AM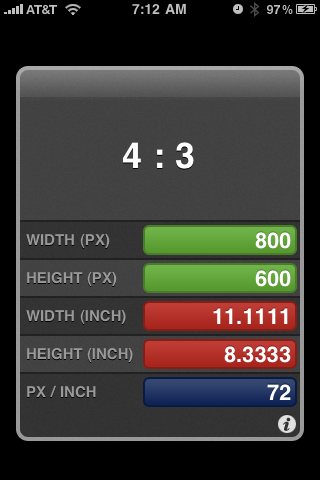 The Claim: Just like the iPhone itself, Aspects encompasses beauty and ease of use. The clean and simple user interface makes aspect ratio calculations an absolute joy. Aspects doesn't just stop at pixels. It supports widths and heights in inches and centimeters, and resolutions in pixels per inch and pixels per centimeter, making it possible to calculate both screen-based and paper-based image sizes. Simply modify one value and Aspects takes care of the rest. Ratios Galore From standard 4:3 to wide 16:9 to old school 1.75:1, Aspects lets you select from twenty-three predefined ratios. And you can create your own, too!
The Application: Condensed into a two-screen UI, can Aspects really make the tedious chore of adjusting aspect ratios for your blog posts / multimedia projects "an absolute joy?" You're gonna have to read on to find out!
The Details: If you've ever grabbed an image or video to put into a web site or blog post and you have certain size restrictions, an aspect ratio calculator is a necessity. If you don't get your aspect ratios right, your video or picture will be a total mess (think 1960's television). On the recommendation of Jason Dunn, the Executive Editor of Thoughts Media, I was using a web site to do this calculation, but it's kind of a pain. It's particularly bad if you're in the middle of working on something and you have to jump out of your project and into a second web site just to do a quick calculation. With that in mind, I put out a call for iPhone developers to write an app for me to save me the grief. Darius Wey answered the call, took my input, and came up with Aspects.
All the fields on the front screen are editable. You can interchange any of the values and Aspects will recalculate the other figures automatically based on the aspect ratio in the top part of the window. Tapping the aspect ratio itself will bring you to the screen below where you can change the aspect ratio.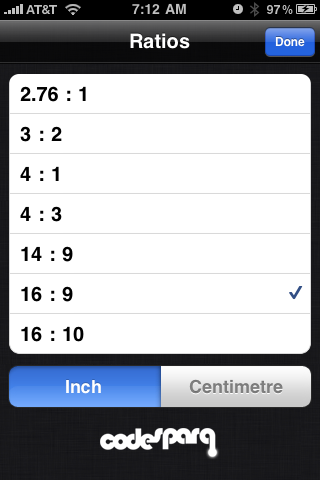 To make things even more convenient, you're able to enter custom aspect ratios so, if for some reason, your project requires more than 16:9, 4:3, or any of the other built in ratios (see the screen grab below).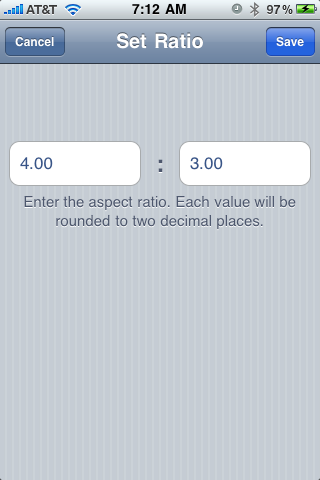 Overall, Aspects is a swiss army knife of aspect ratio conversion.
The Verdict: While "absolute joy" might be overstating things, there's no aguing the fact that Aspects does make things much easier when you're trying to work out the proper size of an image or video for your 524-pixel wide blog layout. I use this app just about every day and find it infinitely more convenient than trying to do the calculations myself (who wants to do that?) or going to a web site to do it. I highly recommend it because it does what it says it does and does it very well. I've also been told that version 1.0.1 is on its way and will include some UI and usability tweaks, so be on the lookout for that, too!
Aspects is available now in the App Store for $1.99, but wait, that's not all!
The Contest: To get the word out for Aspects, Darius has graciously offered us a few promo codes to give out to you, our readers, so if you're in the US (the codes are only good for the US App Store) just leave a comment on this post. You don't really have to say anything other than what you want to use the application for, and we'll randomly pick 3 winners from the entries submitted to get a free copy of Aspects. It couldn't be easier, so get posting!
It should be noted that while Darius Wey is a news editor for Thoughts Media, he has no actual affiliation with Apple Thoughts. As Jason and I have pointed out in the past, Apple Thoughts is essentially a franchisee of the "Thoughts Media" brand and this review is not influenced in any way by the person who wrote it or that it's from a Thoughts Media Editor.
Vincent Ferrari is an Apple fan, videoblogger, blogger, writer, and all-around geek from the Bronx. He works in the IT Department of a cellular phone company that shall not be named, and lives in a very comfortable apartment with his lovely wife, two lovely cats, three Macs, two iPhones, and God-knows-how-many iPods of varying age.

Do you enjoy using new hardware, software and accessories, then sharing your experience with others? Then join us on the Thoughts Media Review Team! We're looking for individuals who find it fun to test new gear and give their honest opinions about the experience. It's a volunteer role with some great perks. Interested? Then click here for more information.
---