Friday, April 2, 2010
Posted by Jeff Campbell in "Apple Software (iPhone/iPod Touch/iPad)" @ 08:30 AM
"We poked around the iTunes App Store for the coolest and most unique iPad apps and came up with a list of some of the apps we'll be trading in our weekly Starbucks allowance to purchase. In no particular order, below is a small sampling of what we liked."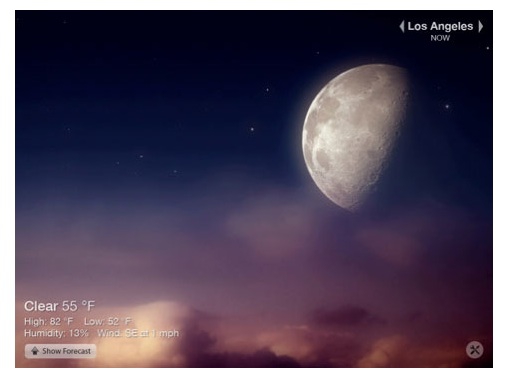 My favorite of the lot? The Weather HD App (pictured above). For $0.99 USD [link] it certainly looks good, and will work perfectly if you want to use it as a digital picture frame. And since the iPad, at least according to what I've read, doesn't have a weather app this is a good replacement.
One app that isn't on here that should be is Star Walk, available now for iPad for $4.99 USD, only two bucks more than the iPhone version. And TUAW has come out with their list of 20 apps, and it does include Star Walk. You can find their article here.
---