Tuesday, May 19, 2009
Posted by Vincent Ferrari in "Apple Software (iPhone/iPod Touch)" @ 09:00 AM
"Call it cosmic balance - earlier today I was griping about Google Tasks on mobile devices, and now I'm happy to see labels come to Gmail Mobile. The new function is only supported on Apple's iPhone and Google's own Android handsets. The recent addition of the new drop-down menu system to the Google web-based mobile client has clearly set the stage for desktop-like functionality, something mobile device owners will appreciate."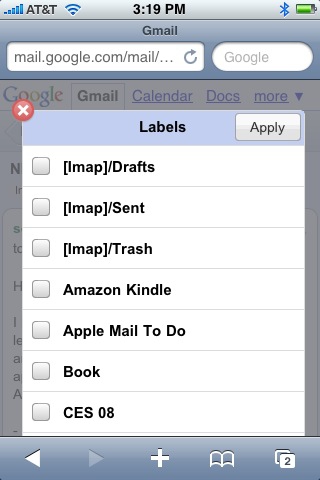 Great catch by Kevin at JK On The Run (the image above is theirs, also). I have to say the mobile G-Mail app for the iPhone is quite usable. I still prefer the integrated mail client over the mobile web version, but with each new feature addition, that becomes harder and harder to justify.
How do you access your G-Mail on the iPhone?
---