Friday, August 5, 2011
Posted by Shawn Rogers in "Apple iPhone, iPod Touch, iPad" @ 07:00 AM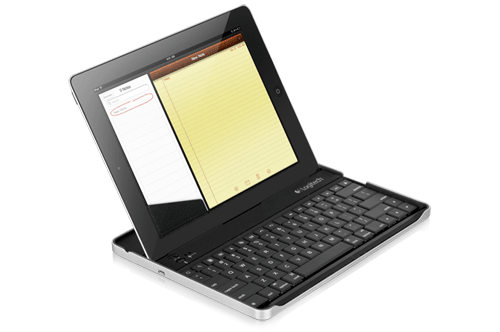 Product Category: iPad 2 Case/Keyboard
Manufacturer: Zagg for Logitech
Price: $99.99 USD
System Requirements: iPad 2
Specifications: 510mAh USB rechargeable battery, 246 mm/9.7 inches long, 191 mm/7.5 inches wide, 11 mm/.43 inches high, .345 kg/12.2 oz. in weight.
Pros:
Keyboard, stand, case in one;
Easy to use, effective design;
Sturdy aluminium shell for a long life.
Cons:
Keys may be too small for those with larger hands;
No protection for the back of your iPad;
Some questions about long term durability.
Summary:
The Logitech Keyboard Case by ZAGG for iPad 2 combines 3 popular iPad 2 accessories into one small profile product: a protective case, a stand, and a Bluetooth keyboard. It is ideal for those that are hoping to use their iPad 2 as a replacement to a laptop, as the small profile makes it easy to slip your iPad 2 and keyboard into a small carry on, and the Bluetooth keyboard makes writing emails or editing documents a snap. However, those with larger hands or who want full body protection for their iPad 2 will find this product lacking.
---