Wednesday, May 6, 2009
Posted by Jeff Campbell in "Apple iPhone & iPod Touch" @ 10:00 AM
"Careless iPhone owners who have flipped their handset into a swimming pool-or glass of beer-can now reportedly save themselves the expense of purchasing a new handset under a new Apple store policy allowing the replacement of a liquid-damaged handset for $199."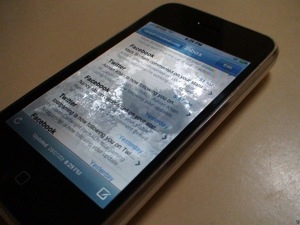 Photo Credit: Ubergizmo.com
In keeping with the damaged iPhone theme of my posts today, Apple now has a policy that applies to "out of warranty incidents" so you don't have to worry about a costly replacement if you drop your iPhone into the toilet. Normal procedure has been that the fumble-fingered customer had to purchase a new iPhone, which also extended the AT&T two-year contract extension. They must have experienced a rash of these incidents because now you simply pay $199.00 USD for a refurbished iPhone and you are good to go. Or is it another method to clear out the inventory in advance of a new iPhone announcement? We can only hope.
---