Tuesday, March 16, 2010
Posted by Jeff Campbell in "Apple Software (iPhone/iPod Touch)" @ 11:00 AM
"Today TomTom released another impressive update for its iPhone app, including optional traffic updates (via in-app purchase) plus a slew of new features, such as Google local search, pinch to zoom, automatic day/night mode, and music fading for voice directions."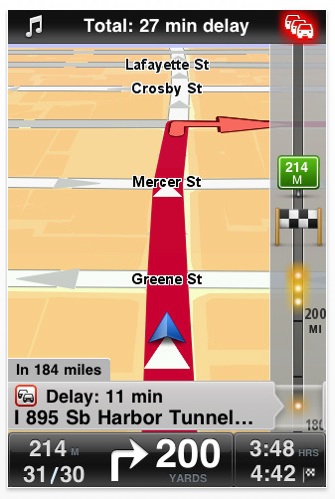 Quite a few feature updates, such as automatic day/night mode, automatic music fading for turn-by-turn directions, pinch to zoom for details on the map, local area places of interest from Google and you can add to TomTom by importing location from other applications.
The update from Tom Tom is free to existing users, and they have also dropped the price on the app $30.00USD for the U.S. and Canada version. The US version is $59.99 USD and the US/Canada version is $69.99 USD. If you want the optional traffic service via in-app purchase, that will run $19.99 USD per year.
---